Oha Health - Your Wellness Warriors!
Our Team of Wellness Warriors are every ready to support you in your journey to health and well being. Reach out to us and we will be happy to hold hand and take you through your toughest of times in gaining health.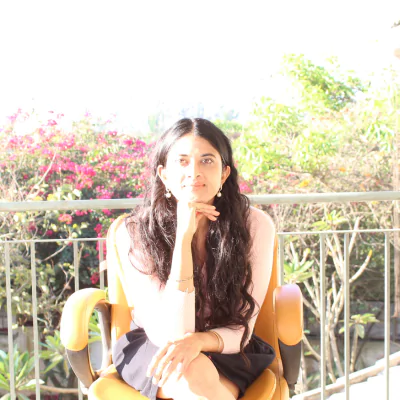 Deepa Kannan. Founder & Lead Nutritionist
Deepa Kannan is an Allied Functional Medicine Practitioner, Ayurvedic Practitioner and a Yoga Acharya who blends cutting edge scientific principles with ancient Indian wisdom to support bio-individual healing, health and longevity. She is the host of the Sleep Whisperer podcast, a space for insightful conversations about sleep, health and well-being with distinguished thought leaders and practitioners from across the world. Her articles have been shared by Dr Mark Hyman, MD, a 17 times NY Times Bestselling Author. She also gave the opening speech on Health Hacks at Amazon Web Services & YourStory HeathTech 2019 to heads of healthcare start-ups in India. She is in the YourStory100 Digital Influencers Of 2020. She has also been featured in the award winning podcast, the 15-Minute Matrix mapping sleep and on UK Health Radio talking about sleep and mental health. Her book on sleep by HarperCollins releases November 2023. Deepa's journey as a healer is a one of continual evolution, that runs in parallel with her life. She has navigated through childhood struggles, a failed marriage and a divorce, remarriage to her soul companion and the birth of a child with a rare genetic disorder, using adversity and deep pain as fuel for her growth and transformation. She brings her soul purpose of holistic health, living with vitality and manifesting dreams to her practice every single day, helping people achieve and maintain a state of well-being that serves their vision for themselves.
Shyam Prasad Nair. Founder & CEO
A Post Graduate who started a career in advertising and settled down in Natural Farming. In his two and half decade of corporate life, he has worked on various brands and products with strategising and marketing etc., He had extensive experience working with many leading brands in India.The call of holistic living was  part of his life journey.  He started his spiritual quest at the age of five and led him to the spiritual search with yoga and Tantra.  Travelled widely in India and his search led him to his guru in the Himalayas and lived with him in ashram life for 3 years and learned the secrets of Yoga and its benefits for mankind.  This journey brought him back to the cities to spread the knowledge of yoga that he learned from his gurus. Finally when he settled down back to connect with nature, He set out create his favourite home around his farm.  He now lives in a farm on the Borders of Bangalore and grows everything from Apples to Olives and our traditional coconuts. He is a Maverick farmer, food connoisseur, health freak and a spiritualist who advocates holistic living for the essence of connecting with body, mind and spirit. He brings with him a host of marketing experience and brand management from his previous avatar in the corporate world. He now leads the life of a Yogi,
K.L.Mukesh. Mentor & Business Advisor
K. L. Mukesh is a Venture Partner with Unitus Seed Fund and a senior business leader with extensive experience in operations management across global geographies and setting up and scaling of television and healthcare businesses. Most recently Mukesh was CEO of Biosense, a medical engineering and design firm developing revolutionary diagnostics prior to which he founded, scaled and exited Akeso Healthcare, a provider of medical consultation and diagnostic services. Mukesh has been in senior management positions with TATA Sky and DIRECT TV, in roles involving customer operations and systems and managing bankruptcy turnaround. He has worked in India, South America, Japan and the United States. Early in his career, Mukesh worked with the Ministry of Planning, Govt. of India as a part of the Indian Statistical Services cadre.Mukesh has also been a hands-on mentor for social impact organisations in healthcare, education and livelihood solutions space helping them setting up structures, systems and processes to scale. He is an MBA from IIM Ahmedabad and holds an M. Stat degree from the Indian Statistical Institute, Kolkata.
Rekha Saleela Nair. Personal Brand Strategy & Stories Crafter
Rekha supports women executives, professionals and entrepreneurs in building authentic personal brands that empower them to represent & lead with impact, influence and by delivering results. She has over two decades of corporate branding & communications experience, gained from radio, advertising & from having served as a corporate leader in the manufacturing, engineering, automotive and aerospace domains. Her experience includes the building of CXO level personal brands to support 10x times business growth & expansion. Rekha is a Transactional Analysis practitioner who is adept at helping people identify and break through inner barriers and limiting scripts. This grants her an edge in supporting clients to build brands that are relevant, sustainable & strategic to their goals and businesses. She is frequently invited by reputed MNCs, Colleges and NGOs to speak about Personal Branding at their leadership and DEI programs. Rekha is the founder of Dragonflies Everywhere, a volunteer driven nonprofit bridge that seeks to support NGO leaders through mentoring, coaching and knowledge sharing. Rekha Mentors Deepa Kannan's Personal Branding and Strategy. Her immense knowledge has helped Deepa grow her personal branding to a new level of perfection and poise.
Suparna Umashankar. Legal Advisor
Suparna is the co-founder of Legal Torque, a full service law firm based in Bangalore, India, which enjoys successful practice in the areas of corporate, commercial, taxation, litigation, arbitration, real estate, banking and intellectual property law. The focus of Suparna's own practice is corporate law and investments, commercial laws and contracts. She has been practicing for over two decades and extensively handles a spectrum of Indian and cross-border corporate deals including private equity, mergers & acquisitions.Suparna has deep experience in advising entrepreneurs, MNCs and businesses from diverse manufacturing & services sectors at all stages of the corporate lifecycle, from ideation and start up all the way to information technology laws, funding and divestments. Suparna also serves as an advisor to investors, nationalised & multi-national banks, corporates and entrepreneurs. She is often invited to share her experiences and knowledge of the legal domain at various forums. Suparna Heads the Legal aspects of OHA Health Service LLC and supports in all legal aspects of the organisation.